ORLEANS COUNTY JAIL, NY
 

ATTENTION!
The Visitor™ Video visitation system is available to Orleans County family and friends.
Orleans County offers The Visitor™ video visitation system which allows friends, family members and professionals the control to schedule and conduct video visits at a time convenient for them. Depending on the inmate's visitation eligibility, the visitation scheduling options available through The Visitor™ include OFFSITE video and CONTACT visitation. 
All adult visitors must register (at no cost) in order to participate in a video visitation session with an inmate at this facility.  See helpful links below.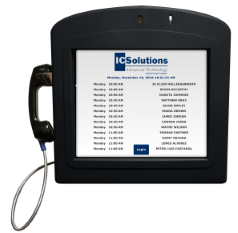 VISITATION
Contact
CONTACT visitation is conducted with the inmate and visitor in the same room in a monitored visitation area located at the facility's visitation center from which the inmate is housed. CONTACT visitation is at no cost to the inmate or the visitor. 
Inmates must be eligible to conduct CONTACT visits for a visitor to be able to schedule this type of visitation.
Offsite Visitation - Visit from personal computer or Android device
For OFFSITE visitation, the visitor can choose to visit from a computer or alternatively from any android device by downloading The Visitor™ android app, ICS MOBILE from the Google Play store. OFFSITE visitation is fee based and the cost will vary by facility.
Internet connectivity issues during offsite visits will not be refunded.
Visitors wishing to participate in OFFSITE  visitation are required to download and test the visitation application either from their computer or Android device before they will be able to schedule a visitation. See helpful links below. 
HELPFUL LINKS
                                        ⇒ Registration and Scheduling: For instructions on how to register for visitation and/or schedule a visit, please click here. 
                                        ⇒ Offsite computer application:  To download the computer application to conduct offsite visits, please click here.  
                                        ⇒ Android device application:  To download the Android app, please click here.
                                        ⇒ Offsite visitation help:  For instructions on how to set up your system for an offsite visit click here. 
                                        ⇒ ICSolutions' Account:  To register, add funds, schedule a visit, or connect an offsite visit from your computer, click here. 
       ⇒ Visiting Schedule and Rules:  To view the visitation schedule and facility rules, please visit Orleans County Visitation.