JEFFERSON COUNTY JAIL, PA
ATTENTION!
The Visitor™ Video Visitation System is available to Jefferson County friends and family members.
Registration and scheduling is available at www.icsolutions.com!
All visitors must register (at no cost) in order to participate in a video visitation session with an inmate at this facility.

Jefferson County offers The Visitor video visitation system which allows friends, family members, and professionals the control to schedule and conduct video visits at a time convenient for them. Video visitation replaces traditional face to face visits on visitation telephones through a glass partition with visitation through video kiosks and are conducted with the inmate never having to leave their housing unit.
See helpful links and information located below.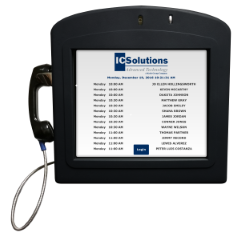 VISITATION
Visit from the jail
Video visitation is conducted using the video terminals located in the facility's visitation center.
HELPFUL LINKS
                            ⇒ ICSolutions website:  To register, add funds, schedule a visit, or connect an offsite visit from your computer, click here.
                            ⇒ ICSolutions Customer Portal: To log in, create a new account, or view product availability, click here.

                            ⇒ Registration and scheduling help:  For instructions on how to register for visitation and/or schedule a visit, please click here.
                                     ⇒ Visiting Schedule:  To view the onsite and offsite visitation schedule and facility rules, please visit Jefferson County Visitation.