SANGAMON COUNTY JAIL, IL
ATTENTION!
The Visitor™ Video Visitation System is available to Sangamon County friends and family members.
Registration and scheduling is available at www.icsolutions.com!
All visitors must register (at no cost) in order to participate in a video visitation session with an inmate at this facility.

Sangamon County offers The Visitor video visitation system which allows friends, family members, and professionals the control to schedule and conduct video visits at a time convenient for them. Video visitation replaces traditional face to face visits on visitation telephones through a glass partition with visitation through video kiosks and are conducted with the inmate never having to leave their housing unit.
See helpful links and information located below.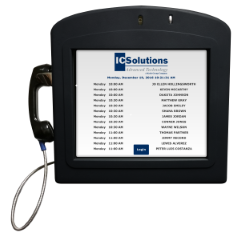 VISITATION
Please read all of the rules completely prior to moving forward.
Not knowing the rules will not be accepted as an excuse for not following them.  Disobeying any rule may result in you being banned from visiting detainees or criminal charges being pursued when applicable.
All visits are subject to monitoring and recording.

All visits must be scheduled 12 hours prior to the appointment or up to 1 week in advance.

CHECK-IN: 15 minutes prior to scheduled visit.

All visitors 18 years of age and older must register and possess a valid picture identification (e.g., driver's license, State I.D., or Military I.D. with picture).

Visitors under the age of 18 must be listed as an additional visitor and accompanied and supervised by an authorized adult visitor.

Visitors may also be asked to provide proof of relationship of the child to the inmate.

Visitors may also be asked to provide proof of relationship of the child to the visitor.

You will not be allowed to visit under the influence of alcohol/drugs.

Any inmate or visitor whose behavior is disruptive during a visit may have his/her visiting privileges suspended/terminated.

PROPER ATTIRE: clothing must cover all private/sensitive body areas.

Staff can deny, change, or cancel a visit at any time.

Each visitation session will show a timer to display elapsed time.

After your visit has ended your connection will be terminated.
Visit from the jail
Video visitation is conducted using the video terminals located in the facility's visitation center.
HELPFUL LINKS
                            ⇒ ICSolutions website:  To register, add funds, schedule a visit, or connect an offsite visit from your computer, click here.
                            ⇒ ICSolutions Customer Portal: To log in, create a new account, or view product availability, click here.

                            ⇒ Registration and scheduling help:  For instructions on how to register for visitation and/or schedule a visit, please click here.
                            ⇒ Visiting Schedule and Rules:  To view the visitation schedule and facility rules, please visit Sangamon County Visitation.